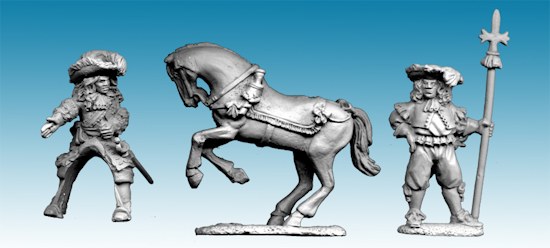 The Duke of Monmouth mounted and young Mr. Churchill on foot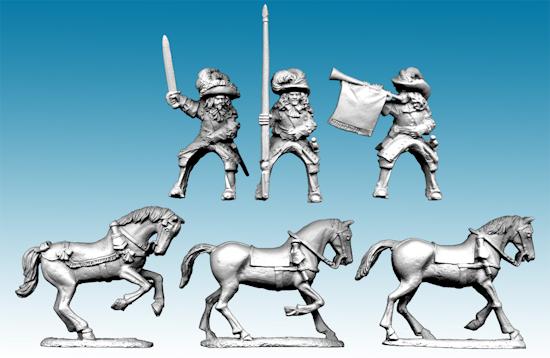 Armored Cavalry Command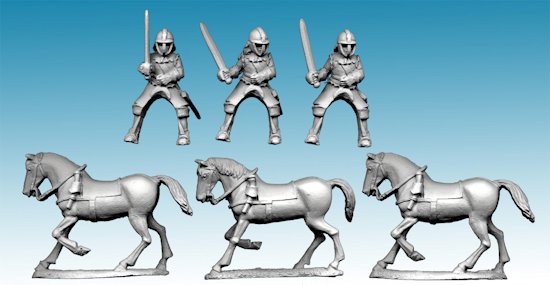 Cavalry in breastplate with 3-bar helmet
Following on to Ralphus' last post on this range, and for those that may have missed it on TMP, Nick at North Star has announced that sculptor Steve Saleh has been very busy of late.
The photo captions are self-explanatory, with the possible exception of the personality figures of Monmouth and Churchill. I commented to Nick that the appearance of young Mr. Churchill was a bit "dodgy", as it doesn't conform to his uniform with the Lord High Admiral's regiment or the French-issued uniforms he would have worn with either the 2nd Battalion of the Royal English regiment or the later French
Royale Anglais
. Nick has responded that he agrees, in principle, but that Steve based the sculpt on a sketch of young John in one the many biographies. With his reminder, I vaguely remember the sketch, but can't place the book; I'll have to dig through my collection. At any rate, Nick felt that it would be a unique and interesting sculpt to add to the range, which I can't disagree with, and that there were already plenty of officer and ensign castings that could work for Mr. Churchill in proper uniform.
The Armored Cavalry Command appear excellent. The Cavalry in breastplate are very good for what they are, namely Maritime Alliance English, Dutch or Germans. I would hope that Steve and Nick would turn their attention to some proper Austrian or Imperial Cuirassier for the Rhineland Campaign and the Italian Campaign, as these would be very useful figures. He could base the sculpts on these illustrations as a starter:
Til next;
Bill